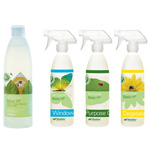 Commemorative 50th Anniversary Basic H2® and 3-Pack Spray Bottles.
Buy Basic H2® Organic Super Cleaning Concentrate (16 oz.) and get a three-pack of limited-edition spray bottles featuring the 50th Anniversary logo for 50% off.
An unbelievable 48 gallons of super-safe, really powerful, double-concentrated clean come out of this one little 16-ounce bottle. We challenge you to use it up any time soon. Basic H2 literally gives you a thousand ways to try. Some suggestions: Spilled milk. Bug guts on the window. Splattered spaghetti sauce. That's three down. Only 997 uses to go.
Clean Credentials
Nontoxic
Natural
Doubly concentrated

All Purpose Cleaner - Costs 3¢*
Window Cleaner - Costs less than 1¢*
Degreaser - Costs 17¢*

Biodegradable
Get Clean with these handy spray bottles! Available in a three-pack, each bottle is labeled with instructions for mixing Basic H2 for All Purpose Cleaning (leaf), Glass Cleaning (butterfly), and Degreasing (flower).
*At MN price.
Don't miss this!!!!
Click HERE to read more about Basic H and why it is my favorite cleaning product!
Happy Cleaning,
Bonnie
Please visit my online Shaklee site.