Vitamin D has been a hot topic in the news. Recent research studies show that vitamin D - the "sunshine vitamin" - offers a multitude of important benefits including supporting healthy heart function, immune and bone health. Yet, surprisingly, up to 80% of Americans may have insufficient levels.
Are you getting enough Vitamin D?
Get the answer with Vitamin D-ology, a new online quiz developed by Shaklee Scientists.
Based on the answers to 8 simple questions, the Vitamin D quiz will quickly calculate the Shaklee Health Sciences recommended level of Vitamin D. The level of vitamin D supplementation you may need depends on many factors including where you live, time of year, your skin color, how much sun exposure you get each day, your age, if you are overweight, how often you eat fish or vitamin D fortified foods and how often you exercise.
Take the quiz today!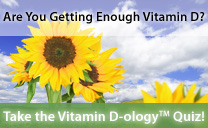 Add Some Sunshine to Your Day Vitamin D, also called the "sunshine vitamin," offers a multitude of health benefits. Our bodies produce it when exposed to the sun, but a majority of people may not be getting enough of it due to geographical location, the time of year, sunscreen use, and skin color. Vita-D3 is the perfect choice for overall health and well-being. Each easy-to-swallow tablet contains 1,000 IU of high potency vitamin D3, the most potent form of vitamin D, to help your body thrive.

Studies show this essential nutrient helps:
•Support healthy heart function
•Promote immune system health
•Facilitate healthy cell development
•Maintain strong bones and teeth by increasing calcium absorption
I hope that you have a great weekend!
Did you take the Vitamin D quiz?
What did you get?
Bonnie :)